I started putting this list together as I am prepping for the upcoming college football season. I've broken the list into 2 groups, non-conference and conference matchups. Some of these games will have BCS significance and others will be more of traditional importance, but they all look to me to be great games and well worth your time whether you are a fan of the teams or not.

Top 5 non-conference games

5. BYU at Utah September 15th-This matchup has been a tradition for many years, but since the conference changes in 2010 we've been counting down to the beginning of the end of the Holy War. This game is less about 2 great teams fighting for BCS position but marks what may be the end of a great football tradition.

4. Auburn Vs. Clemson(in Atlan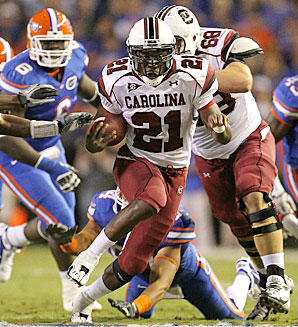 The role of the running back in college football has changed so much. With the not so new spread offense, teams are throwing the football more, and when they do run, it's less and less often out of a traditional run set. So when I look at who has the best group of running backs in the league, how they run the football has to figure into the equation.

Preseason Top 25

1. Alabama-Even with their losses, they are still so talented on both sides of the football.

2. USC-Probably a national title contender last year if not for their sanctions. Should be in the thick of it all year long.

3. LSU-Another team that took significant losses in terms of personnel but looks ready to reload.

4. Oklahoma-There are questions on both sides of the football, but you can't deny the passing attack promises to be explosive.

5. Oregon-This ranking could change greatly if the Ducks struggle to find someone to step in for Darron Thomas at quarterback.

With the BCS Championship game only a day away, and the Auburn Tigers set to square off with the Oregon Ducks in Glendale Arizona, there have been a lot of thoughts running through my head. And rather than just let them all fight amongst themselves in my head, I am going to put them down here.

Let's roll through the Bowls, all 35 of them, in chronological order (maybe). I'm going to lay out who's playing in each one and then make a prediction on who'll win. Yet again I'll point out if I put money on my own predictions my kids would starve. I heartily recommend that you don't base anything financial on my predictions!

uDrove Humanitarian Bowl
Who: Northern Illinois vs. Fresno State
Winner: Fresno State

BCS Championship Game - Auburn v. Oregon
As much as we'd like to think that one of these teams is going to fall before the title game, I just don't see it. Auburn has a tough go in the SEC title game, assuming they aren't spent from the Iron Bowl, they are still much more talented than South Carolina and should win this game. Oregon and Oregon State sounds good on paper, but the Beavers just don't have enough offense to hang with the Ducks.

And so here we are at the tail end of the season and everything out there is pretty much still to be decided. At least the really big prize anyway. With 2 weeks to go there's still 4 unbeaten teams in contention for the National Championship Game and as of right now, it could be any 2 from 4 (yes really!). So who's got what to come and how much have they got to do to reach College Football Nirvana? Here's the grid:
My fellow college football fans, I am speaking to you today, to help you understand where we are as a nation. A College Football Nation. We have seen some troubling waters, but we have forged ahead and I feel like we have new hope, and we are energized as we move into a new stage of our season.
My new Heisman Top 5 starts to squarely pair up with the top teams in the country. Sadly, there are no dark horses this year like last season. As much as I'd love to drop some sleeper names in my list, this just isn't the year for it.
This top 5 is pretty chalk by my Heisman predictions, and I'm ok with it, so I hope you are too. On some level you have to go with the Heisman unwritten rule of best player on the best team. The real debate at this point is more about who the best team is I suppose.
5. Justin Blackmon WR Oklahoma State - I suppose if any guy qualifies as a sleeper it's Blackmon. He is such a good player, he just makes all the best CBs look silly week after week.