Scouting Snapshots-DJ Fluker
Written by Curt Popejoy on 08/06/2012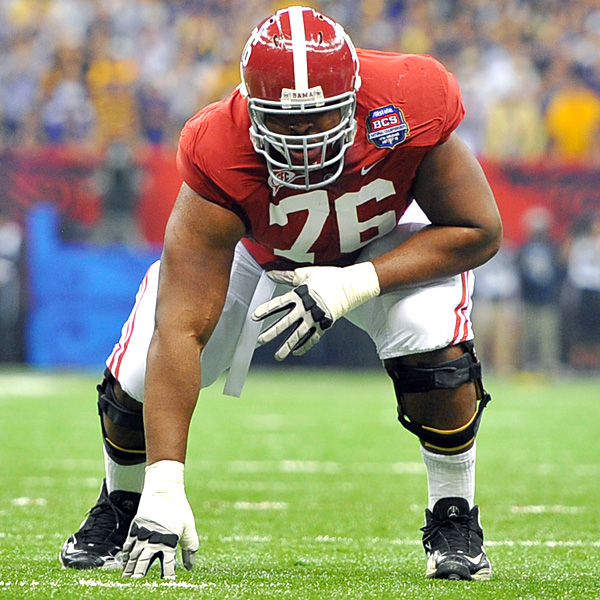 These are my preseason scouting reports. They are meant to just lay a foundation for where these players are going into the 2012 College Football season. Obviously when I do final scouting reports on these players after the season, things will change. No guarantees they will change for the better, and I do my best to be objective and pragmatic. You all may take that as being negative, but if I like a guy I say so, and if I don't, you'll hear that too.

DJ Fluker, Offensive Tackle, Alabama
Height-6'6"
Weight-335lbs
Positives
-Massive human being
-Tremendous power in run blocking
-Excellent punch off the snap
-Maintains blocks to the end
-Has played against high level of competition
-Experienced
-Adequate(inexperienced) in pass protection
-Does a good job picking up assignments
Negatives
-Too big to play LT in the NFL?
-Needs to set up quicker in pass protection
-Loses leverage in pass protection
-Not an elite athlete
-Might be better suited to play guard in the NFL
-Needs to get better working 2nd level
2012 Outlook
Last season Fluker asserted himself as a dominant tackle in the SEC. He's an absolute road grader in the run game. He powers off the football, gets up into the defenders and simply overpowers them. When you saw some of Trent Richardson's best runs, it started with Fluker planting his man like a daisy. This year without Richardson I want to see Fluker get better in pass protection. He's going to face some tremendous edge rushers so I want to see if at 335lbs he can hang with the top edge rushers he will face. I fully expect him to win many more than he loses. I have Fluker as my No. 1 player on my top 32 players, mainly because any of the top 6 could hold the spot. Fluker is going to have to really play well to hold that spot. At his weight, some teams will look at him as more of a RT, where they play more of a run blocking tackle and can be bigger. I think Fluker has the skills to play on the left, but to earn a top pick in the 2013 NFL Draft, he might need to do it a little lighter.
Follow on Twitter @nfldraftboard
Credit for Photo-AP Photos
Last Edited: 08/06/2012